Our Easy 3- Way Teaching Method
We combine private lessons and group lessons to provide our students. Our private lessons are 50 minutes with one on one instruction. During your private lessons, you will have 100% of your instructor's time and attention on you and your specific needs.
Our group classes are also 50 minutes which allows students to learn together and fine-tune partnering skills and interact with each other. Then we put it all together…
Friday Night Practice Parties!
The best part about learning to dance at Live2Dance is our parties every Friday night. We have a live band for our students to enjoy great music, dance and socialize!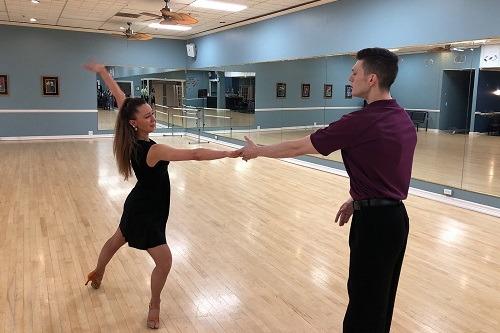 Our easy 3 Way Teaching Method has proven to take a beginner who thought they had two left to dancing like a professional in no time at all.
"Dance is the hidden language of the soul."
Martha Graham
 Your First Lesson – What to Expect

Everyone is a little nervous for their first lesson. You don't have to worry about that with us. The fact that you chose us is very important to us and we want you to know that you are in the right place.
Your first lesson will last about an hour. We want you to dress comfortably. Loose clothing is always the best. As far as your shoes, pick a pair that has a smooth sole. Ladies, heels are optional. Stay away from tennis shoes or dark soles. The dark soles can mark our floor.
Our First Lesson Process:
Assessment Stage: You will meet with one of our Managers who will ask you questions in order to better understand the following:
 What is your current dance experience (have you had any dance lessons before)?
Is there a special event coming up that should be considered in planning your experience?
Is there a particular dance that you want to learn and why?
Our First Lesson Process:
Instructor "Matching" Stage: Based on your answers, you will be matched with an instructor that best fits your particular needs.
Dancing Stage: Your instructor will then work with you for 30 to 40 minutes teaching you basic elements, how to lead or follow, and introduce to a basic in 1-2 dances. Within a few minutes, you will be having so much fun hat you have forgotten that there is anyone else in the room. Your instructor's goal is to prove to you that
You CAN learn to dance and
That its probably much easier than you ever anticipated!
Presentation of Dance Packages: What makes us unique than other dance studios is we set goals with our students. You and your instructor will define those goals and then we will present dance options designed to help you reach those goals. All of our introductory packages include a combination of Private Lessons, Group Classes and of course, Friday Night Practice Parties!
At the end of your first visit, we want you to evaluate us. We will ask you to provide feedback on your experience with us. In the end, it's your opinion that matters.