Who We Are
Still waiting around for LIFE to "happen" to you?
Take Control and LEARN TO DANCE!
 Brian and Kiah Keating, Founders
Brian moved from Milwaukee to Nashville in order to pursue his love of dance. Brian competed in several different styles of dance but found his passion to be in American Rhythm. Eventually, Brian came to a crossroads where he had to choose between receiving back surgery to continue dancing or, change his career path. Brian decided to pursue the business side of the career he loved. He eventually purchased the studio where he taught for over a decade. Several hundred students have been trained under Brian and have won over 100 pro-am awards.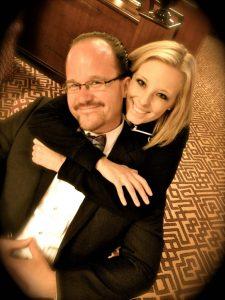 Today, Brian focuses on helping his instructors become the best in the country. He has since discovered that what he found most rewarding in this career change, was the ability to help other dancers be the best they can be. Kiah Keating began training in all styles of dance from a very early age. It wasn't until she graduated from high school and moved to Nashville that she fell in love with the ballroom and rhythm styles. Starting her career at LIve2Dance/NDC gave her access to the most sought after coaches, training, and opportunities anyone could ask for. She quickly rose in the competitive rankings as well as bringing her students to high levels of achievement and earning them, herself, and Live2Dance/NDC Top Awards at some of the most prestigious events in the USA.
Kiah has gone on to complete testing and certification through DVIDA and Terpsichore, obtaining her NDCA judging credentials as well. Kiah enjoys all aspects of the Ballroom Dance World, and spends her time at the club teaching, coaching, training, and choreographing for many of the staff and students. She has produced and choreographed several shows over the last 20 years at Live2Dance/NDC, many alongside her father and world-renowned choreographer and coach, Gary Pierce, to who she owes much of her passion and success. When she's not at the club, Kiah is focused on spending time with her husband Brian, their daughters Brianna and Willow, and their 4 dogs.
"Dance is the hidden language of the soul."
Martha Graham
Jim Peters
Regional Dance Director
James started as a teacher in Chicago in 1964.  He has been the Regional Dance Director for Live2Dance/NDC for 23 years.  He is a Certified Adjudicator in all styles, Examiner for Dance Vision International.  James received the Lifetime Achievement Award at Dance Expo in 2014 and the Music City Invitational 2019.
Gary Pierce
Resident Coach/Choreographer
Mr. Pierce has been a fixture at Live2Dance/NDC since the early 1990's. With a strong background in almost every style of dance from ballroom, Latin, and swing to
ballet
, African and
 

tap

 
dancing. Mr. Pierce provides our students and staff with enormous access to many different styles in or order to "broaden the horizons".
He is an award-winning choreographer, coach, mentor and friend to many in our industry. He has choreographed and produced countless shows and events for Live2Dance/NDC and although he currently resides in
New York City
, we are happy to have him as regular addition to our team.
Andrew Stockton
Supervisor / Instructor / Adjudicator
Andrew has been dancing since he was 15 years old.  He turned professional at the age of 20. He has completed all levels of certification through DVIDA and regularly teaches all levels and styles of dance.
Andrew strives each day to better his students, he enjoys watching people's success.
Randy Thomas
Instructor
Randy has been dancing since he was old enough to walk. He went to school for dance and even had the opportunity to become a So You Think You Can Dance city finalist.
Eileen Maurice
Office Manager
Audra Ownby
Marketing Director